Instagram, a Meta company, has finally launched Threads, after being in the news for the past couple of months. The new app enables text-based sharing and public conversations for Instagram users.
Designed by the Instagram team, the Twitter-like app, Threads provides a dedicated space for users to express themselves through text updates, fostering real-time engagement with photos, videos, and GIFs. The app, available for both iOS and Android, allows seamless login using existing Instagram accounts, ensuring a smooth transition for users.
That's why Threads has taken the digital world by storm, with an astounding 10 million users within a mere 7 hours of its release. This rapid surge demonstrates the strong demand for an alternative to Twitter, thanks to Twitter's recent restrictions for non-paying Twitter Blue users. The massive influx of users to Threads indicates a growing dissatisfaction with Twitter's recent policy changes, which have limited free users' ability to use features on Twitter.
Threads Features: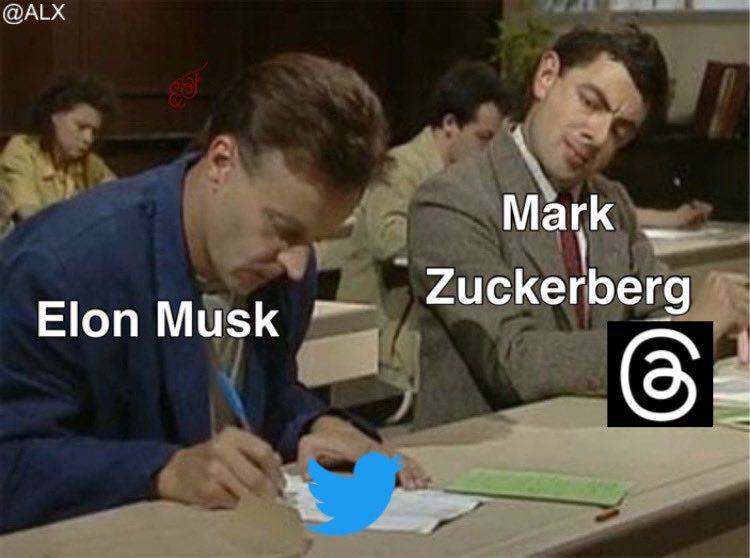 With Threads, users can share text updates of up to 500 characters, along with links, photos, GIFs, and videos up to 5 minutes in length, breaking away from Instagram's traditional emphasis on just photos and video-based content. Most people are calling it a platform with Instagram software and Twitter hardware due to its similarity with Instagram's UI and Twitter features. On Threads, you can not only follow all your Instagram friends, creators, and brands but also follow individuals found via the home feed.
Currently, Threads doesn't have any specific followers-based feed, hence you'll see updates in one singular feed. However, Mark Zuckerberg hinted that the app will soon be getting a followed accounts-based feed for a better experience.
Twitter vs. Threads: Safety and user controls:
Mark Zuckerberg doesn't think that free speech is safe. While commenting on the free speech, he says that they're focusing on making Threads safe and friendly for users, hinting that the same Instagram policies will be implemented on the platform. Safety and user controls are integral features of Instagram and are mostly biased in my opinion. However, ensuring a positive and secure environment for users to express themselves is crucial for any platform.
Threads gives the power to users to manage mentions and replies, filter out specific words, and unfollow, block, restrict, or report profiles, empowering them to curate their conversations and maintain a harmonious digital space.
One of the most promising aspects of Threads is its future compatibility with the ActivityPub protocol, established by the World Wide Web Consortium (W3C). This compatibility opens up exciting possibilities, enabling Threads to seamlessly interact with other social networking apps that support the ActivityPub protocol, such as Mastodon and WordPress.
Is Threads App a Twitter Killer?
While the meteoric rise of Threads poses a significant threat to Twitter's dominance, the battle for users' loyalty is far from over. Twitter has been proactive in addressing concerns and improving its commitment to free speech and privacy. Hence, presenting users with a difficult choice. Threads, while offering a refreshing approach to unhindered expression, collects extensive user information, which raises concerns among privacy advocates. Threads consumes a lot of user data, from location to sensitive information as mentioned on the App Store.
Twitter is far from over. Whenever there's competition in the industry, it's better for the end consumers. Eventually, it's the product that improves over time. While Threads is an interesting app to explore, Twitter remains the undisputed king of microblogging.
Which one do you prefer? Threads by Instagram or Twitter? Let us know in the comments below!