Recently I tried logging into our TechTout Instagram account after a while and ran into this error saying, Incorrect Username: "The username you entered doesn't belong to an account. Please check your username and try again." And then there's a button showing Try again text. The account was still active and wasn't blocked or restricted by Instagram. I didn't even receive any email from IG for any violations.
At first, I got panicked. But soon after trying different tricks, I was able to get access back. In this guide, I'll be sharing several ways with you to get rid of "The username you entered doesn't belong to an account" error on Instagram. I've tested this on my iPhone, Android phones, and now iPad, and these methods work on them.
What was causing the issue?
It was the IP address. I was using WiFi to log into Instagram. Even though the password and username was right, this message kept on showing. I followed these steps instead:
How to fix "Sorry we couldn't log you into Instagram" error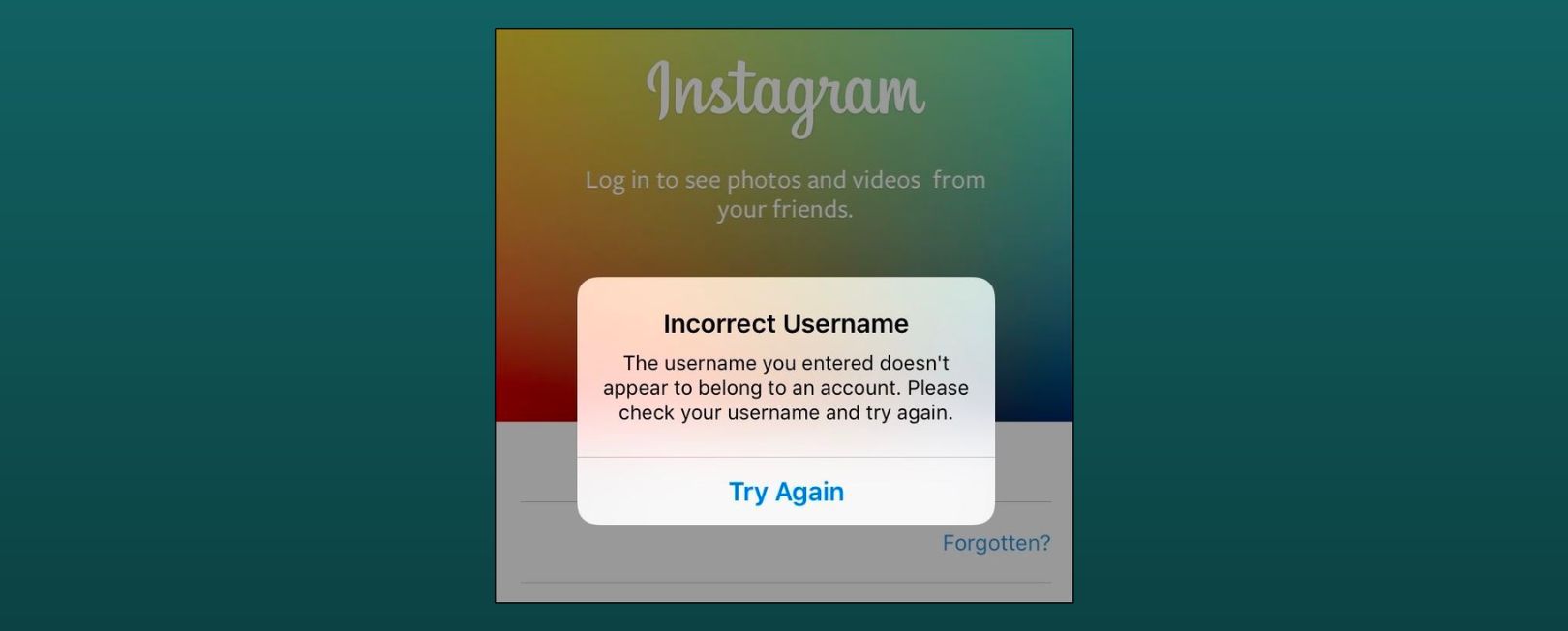 Follow these steps to quickly fix this Instagram incorrect username error:
1. Disable your WiFi network and enable your mobile data, i.e, 3G, 4G, or 5G
Try disabling your WIFI network and turning on your mobile data, such as 5G, 4G, or 3G.
2. Open Instagram and try logging into your account
After that, try logging into the Instagram app on your iPhone or Android, again.
3. Voila, you're now logged into your account
Shifting from a Wi-Fi network to mobile data worked for me. I also tried using a different Wi-Fi, which also worked.
However, if this doesn't work for you (as some users reported), you can try this instead.
If you use any VPN service, make sure that it's turned off before trying these steps. The IP conflict can make Instagram behave this way. To protect your account, Instagram may disable the logging feature for that particular IP address. A VPN changes the IP address of a device so turning it off would be wise.
Try disabling the VPN if you're using one and try to sign in again. A user in the comments section has confirmed that by disabling the VPN, he was able to log into his account.
Why Instagram won't let me log in?
There can be several reasons for this, not just one. I've seen many people complaining about this for multiple reasons, here are some of them:
You forgot your username and/or password and entered the wrong ones.
Your account is disabled or blocked for some reason.
There's an issue with Instagram servers.
You try to log in with a new device that Instagram doesn't know yet.
You try to log in with a new IP address, and Instagram bans it.
Your Instagram app is out of date.
There's not enough memory on your smartphone.
As you can see, there are multiple different reasons why Instagram won't let you in. Let's dig deeper into the typical Instagram login errors and their solutions.
Follow us for more tips and tricks on Instagram and other social media apps.