As we are evolving into an AI-powered society after ChatGPT took over the blogging industry with its advanced GPT-4 features, keeping your online content safe and original is more important than ever. As a writer and content creator, I know firsthand how necessary it is to ensure my work is free of plagiarism, copyright violations, or inappropriate content. And it gets tougher when you're outsourcing the content or have in-house writers that you're not sure if writing the content themselves or just using content generated from AI writing tools. That's why I rely on advanced AI content detection tools to scan and monitor everything I publish.
These intelligent algorithms can identify AI-generated content, duplicate or even stolen text. Since AI-generated content has a particular pattern, it's usually not something that readers should consume. With these mentioned content detection, I can easily check my articles before they go live on the websites, making sure that the readers get the best value and authentic information. It's like I've 'AI guardians' in place.
Below, I'll share my top picks for the best AI content detection tools that are available right now. We've previously covered the best alternatives to OpenAI's classifier tool, you can also check them out.
Whether you're a fellow writer, marketer, educator, or anyone else producing online material, these tools can help protect your work and reputation with just a few clicks. I'll compare features, accuracy, compatibility, and pricing so you can find the ideal solution for your needs.
Let's go!
How did we rank these AI-content detection tools?
Accuracy: I tested each tool and shared different versions of AI and self-written content to analyze the accuracy of each tool. I analyzed how accurate the tool is at detecting AI-generated content.
Features: I also ranked these content detection tools w.r.t the features each software offers.
Ease of use: I also kept in mind the ease of use factor to rank these tools.
Price: The pricing was also a factor in ranking these AI-content detection tools.
Here are some of the tools that you can use to detect AI-generated content:
The ratings are out of 5 / Tools ranked by the TechTout team
---
1. Copyleaks AI Content Detector | Accuracy 90%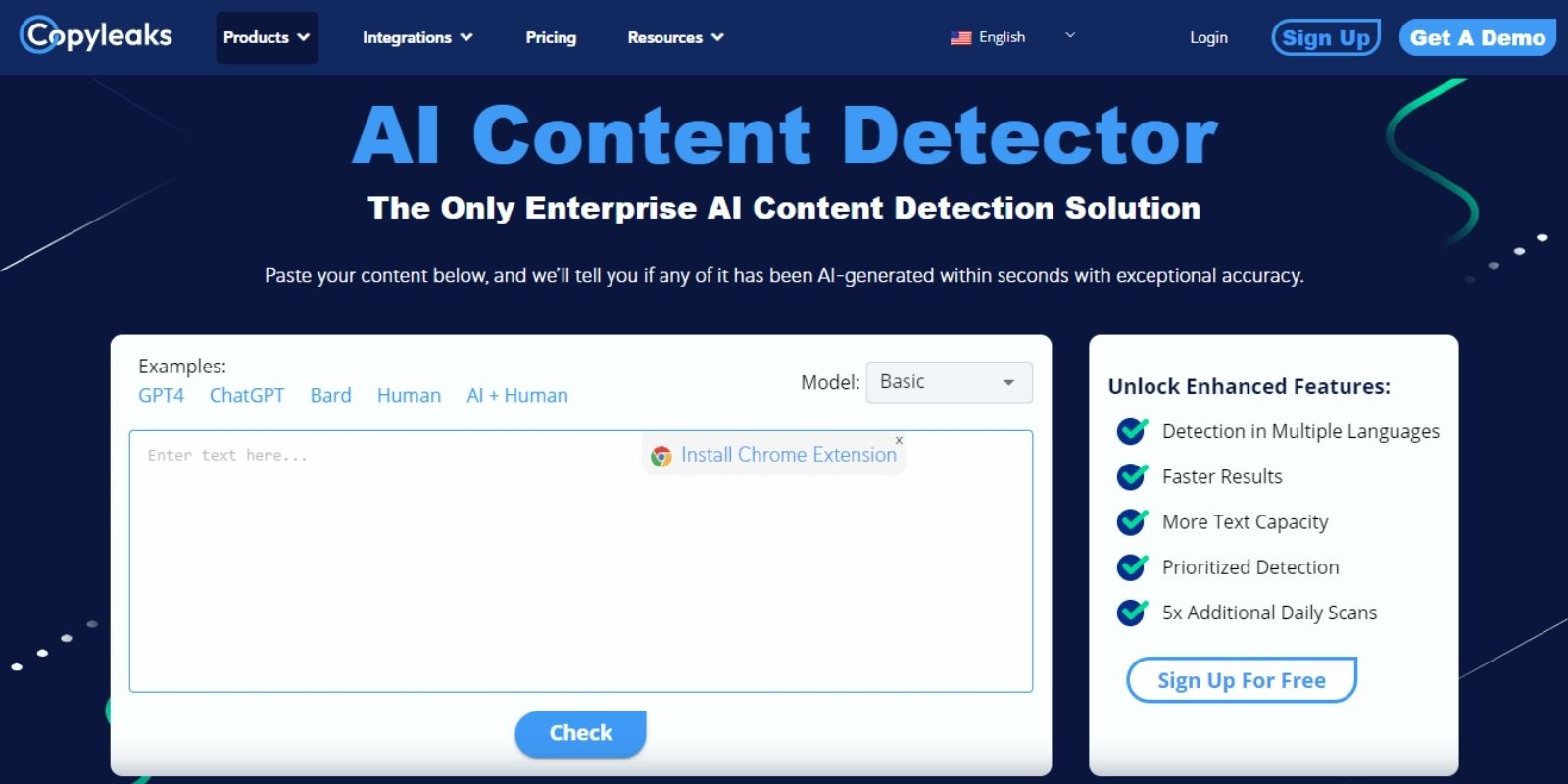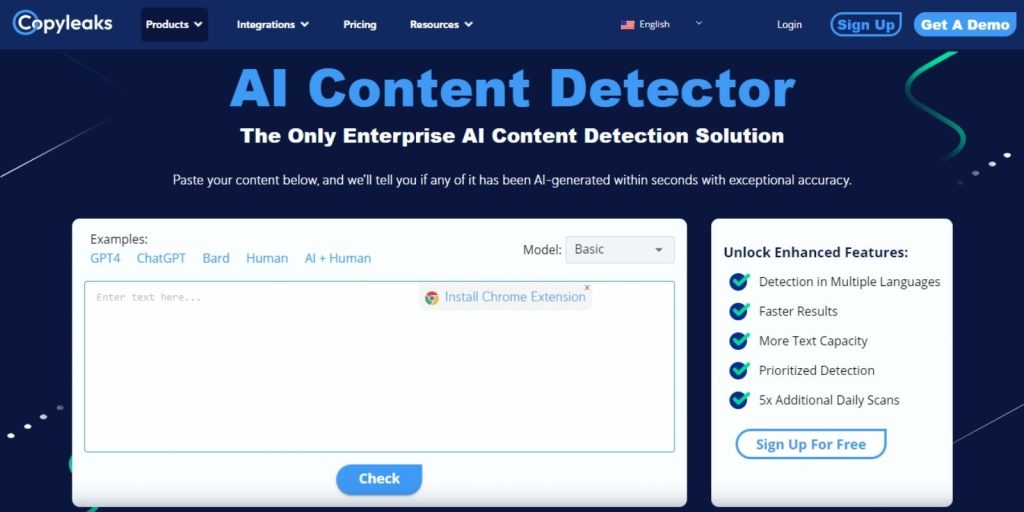 Let's start with the best AI detector tool that can detect AI-generated content with 90% accuracy., including paraphrased or interspersed with human-written text. It analyzes text for regular AI-generated characteristics, such as repetitive sentences, natural word choices, lack of flow, and logical inaccuracies.
Copyleaks AI Content Detector generates a report indicating its probability of AI generation and a reassurance rating. You can also find a plagiarism detector tool on Copyleaks which is best for publishers and businesses to detect plagiarism, identify factually inaccurate or misleading content, and protect intellectual property.
Features:
Detects AI-generated content with a 99.1% accuracy rate with a 0.2% false positive rate.
Comprehensively Detects AI-generated text, even when it is paraphrased or merged with human-written text.
Supports multiple languages.
Easily integrable API.

Pricing Plan: The free plan allows users to scan up to 20 text pages per month, which I think is perfect for students and occasional users. The paid plan, starting at $9.99, allows users to scan up to 500 text pages per month, which is perfect for freelancers and bloggers.
---
2. Winston AI | Accuracy 85%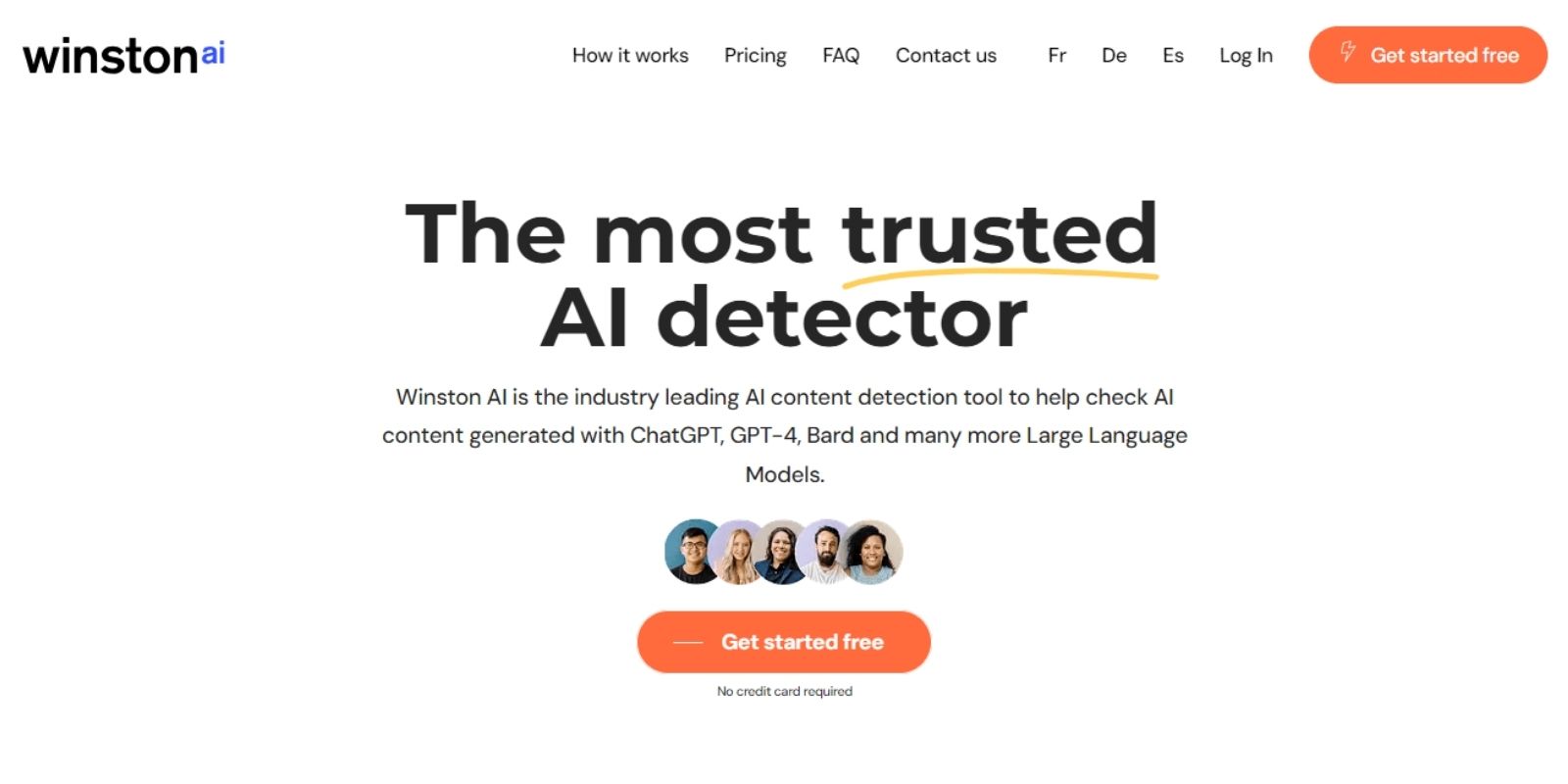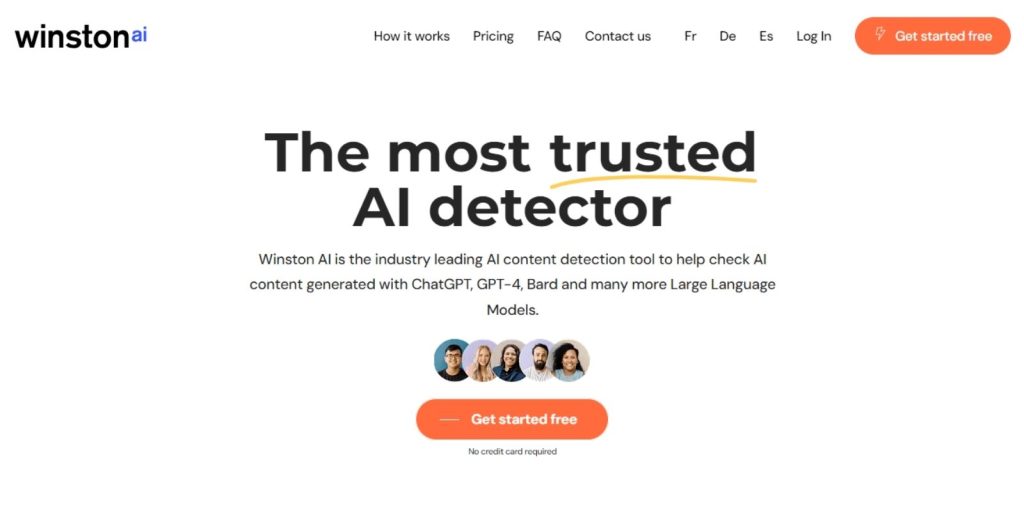 Winston AI is a top AI content detector tool with a 99.6% detection rate for text generated by ChatGPT, GPT-4, and Bard. It features a built-in plagiarism checker and a user-friendly interface for checking individual text or entire documents.
Winston AI allows you to add content by simply copying and pasting, or you can upload files in various formats to check for AI-generated content.
Features:
AI-generated text is detected with a 99.6% accuracy rate.
Provides an integrated plagiarism detector to save you time and effort.
Has an easy copy-and-paste interface.
Offers a range of price options to suit your budget
Pricing Plans:
Winston AI offers a free trial period after which you may select one of the paid options. The growth plan provides 80,000 words per month for $18.
---
3. Originality.AI | Accuracy 80%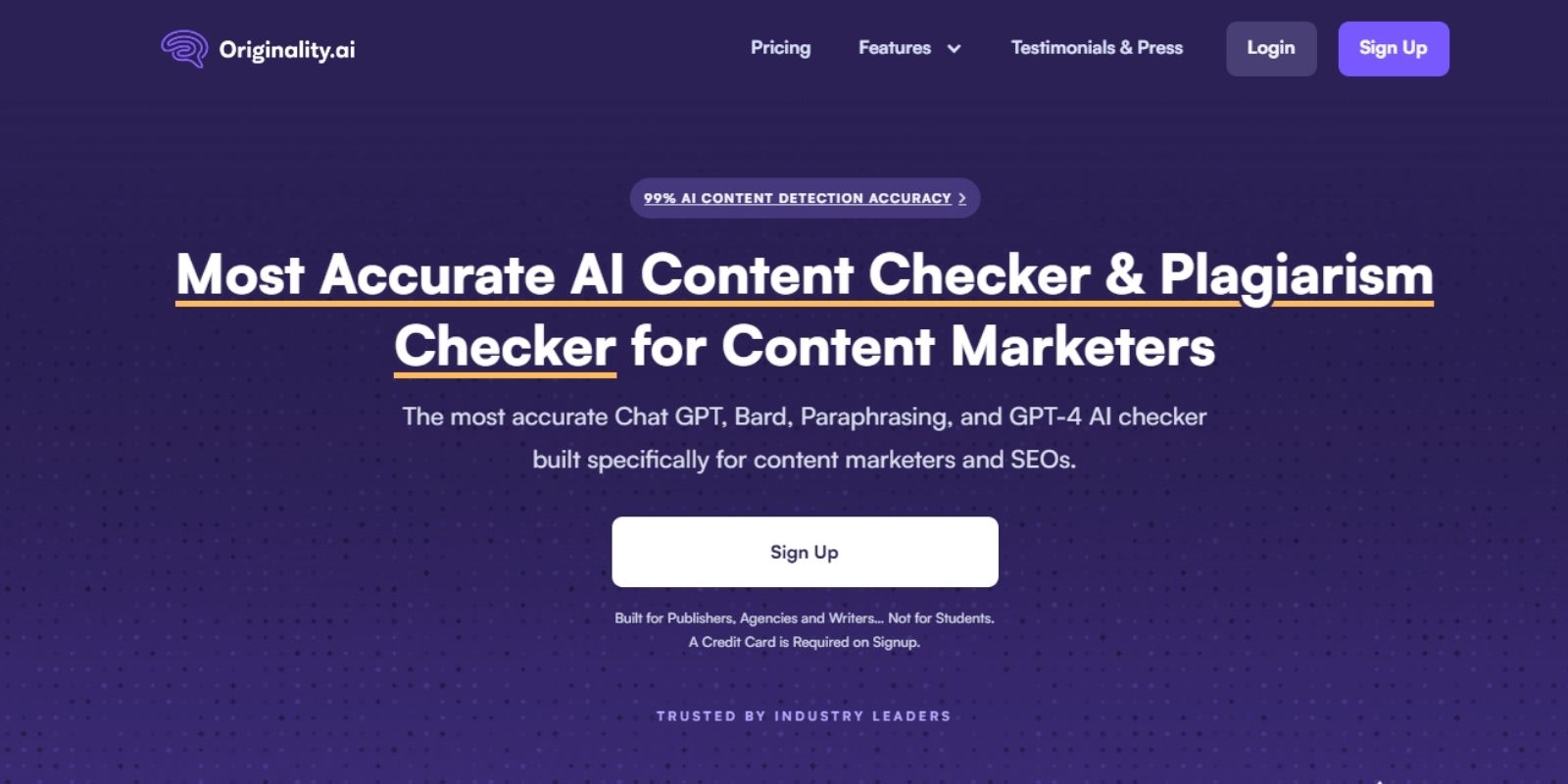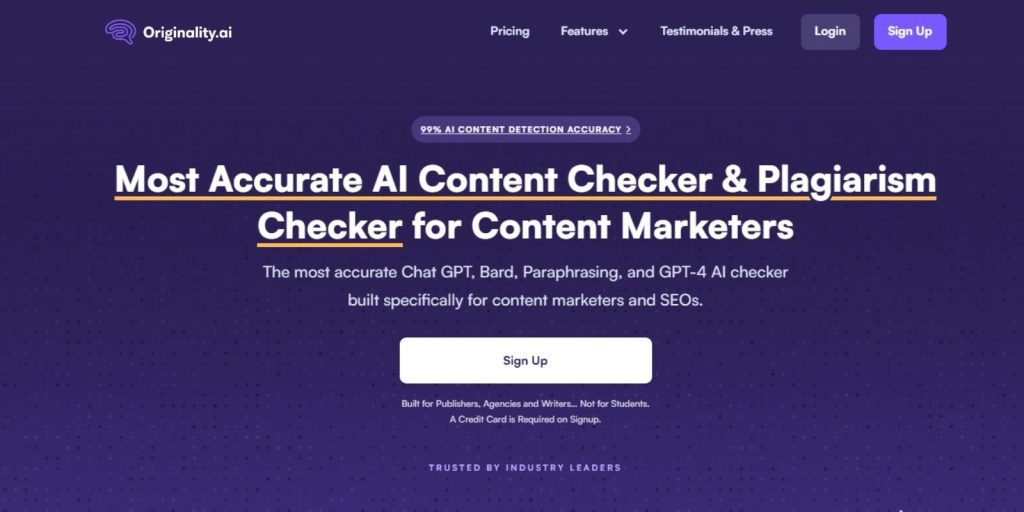 Originality.AI is a paid AI content detector that provides high accuracy and features like plagiarism detection and integrations with platforms like Google Docs, WordPress, and Turnitin. It can identify AI-generated content like text, code, and images, even if paraphrased or rewritten.
It can scan individual documents or entire websites, ensuring the authenticity of online content. Originality.AI also provides a Chrome extension that allows you to search for AI-written material on Google Docs, WordPress, Email, and any other website.
Features:
Detect ChatGPT-generated content with 94% accuracy.
A user-friendly dashboard (available on desktop and mobile)
Supports all widely used NLP techniques
Website scanning feature for website visitors to determine whether the content was created using AI
Team collaboration feature for managing huge teams (useful for content agencies in managing multiple projects).
Pricing Plans:
Basic AI content detection and plagiarism detection, 2,000 credits per month. For more advanced capabilities, the Starter plan is available at $14.95 per month, granting 10,000 credits, along with features like team collaboration and API access.
Originality AI also offers a pay-as-you-go option, where you can purchase credits for $0.01 per 100 words.
---
4. Passed AI | Accuracy 70%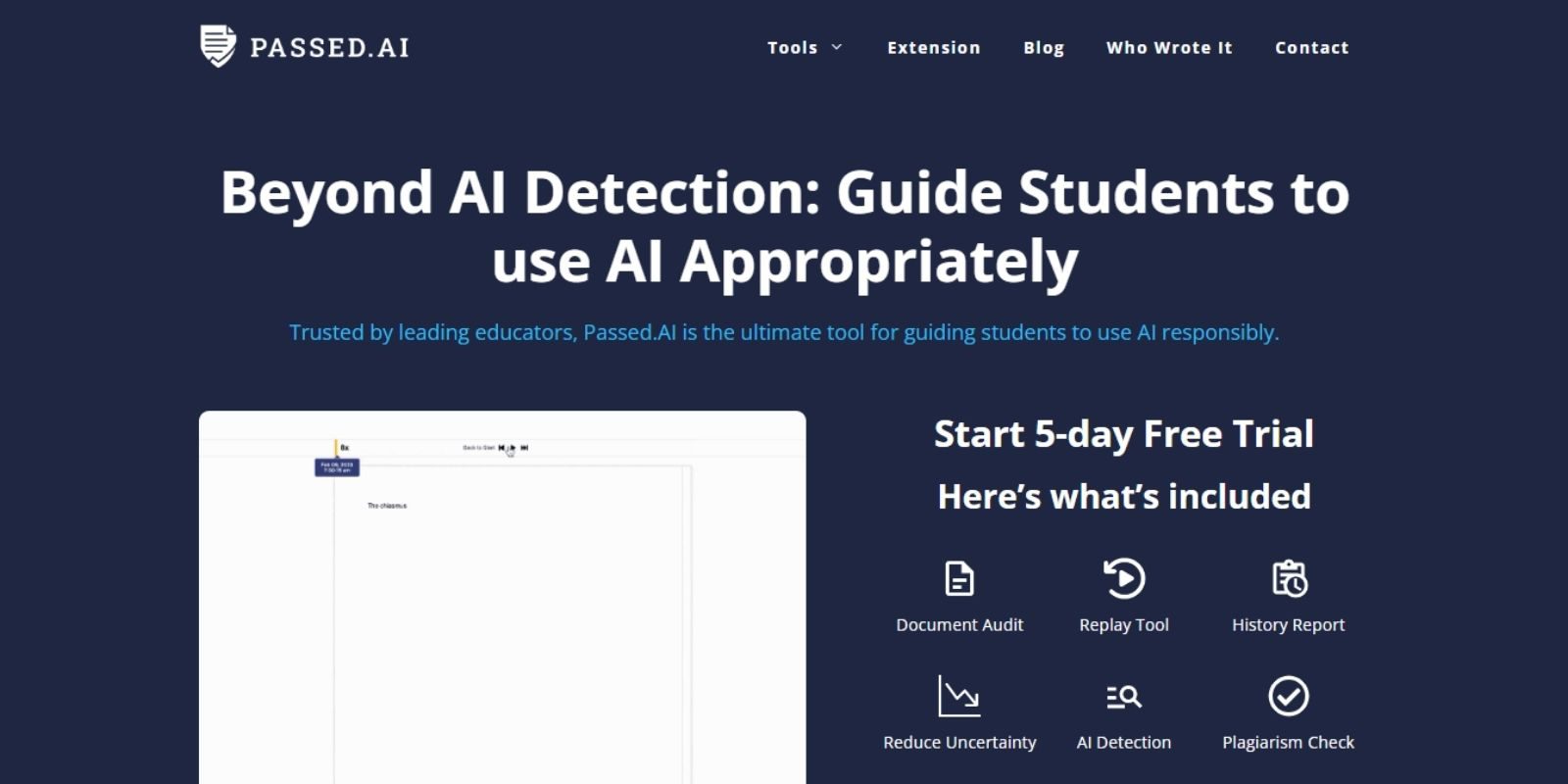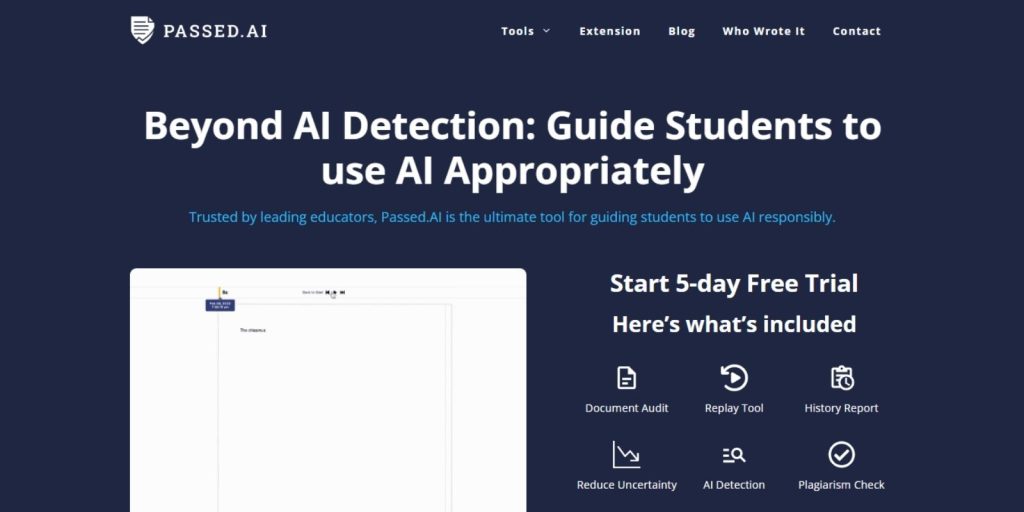 Passed.AI is a tool designed to verify submitted work as either student-written or AI-generated. It uses Originality.AI's AI detection algorithms and other NLP models to detect plagiarism and cheating.
The Document History Audit feature examines the accuracy using a replay feature that monitors document activity metrics like changes, inserts, deletes, and modifications. It tracks document activity metrics, captures AI content with a 94% accuracy, and ensures private information safety with 256-bit encryption.
Features:
The Chrome extension allows you to directly access Google Docs.
Unique system for auditing document history.
Ensure all your private information is safe.
Pricing Plans:
A 14-day trial is offered by Passed AI for free. Once you're satisfied decide which paid package best meets your requirements, paid plan starts at $12 per month with up to 200 credits per month.
Each credit is equivalent to 100 words scanned. So, if you scan a 1,000-word document, you will consume 10 credits.
---
5. AI Detector PRO | Accuracy 70%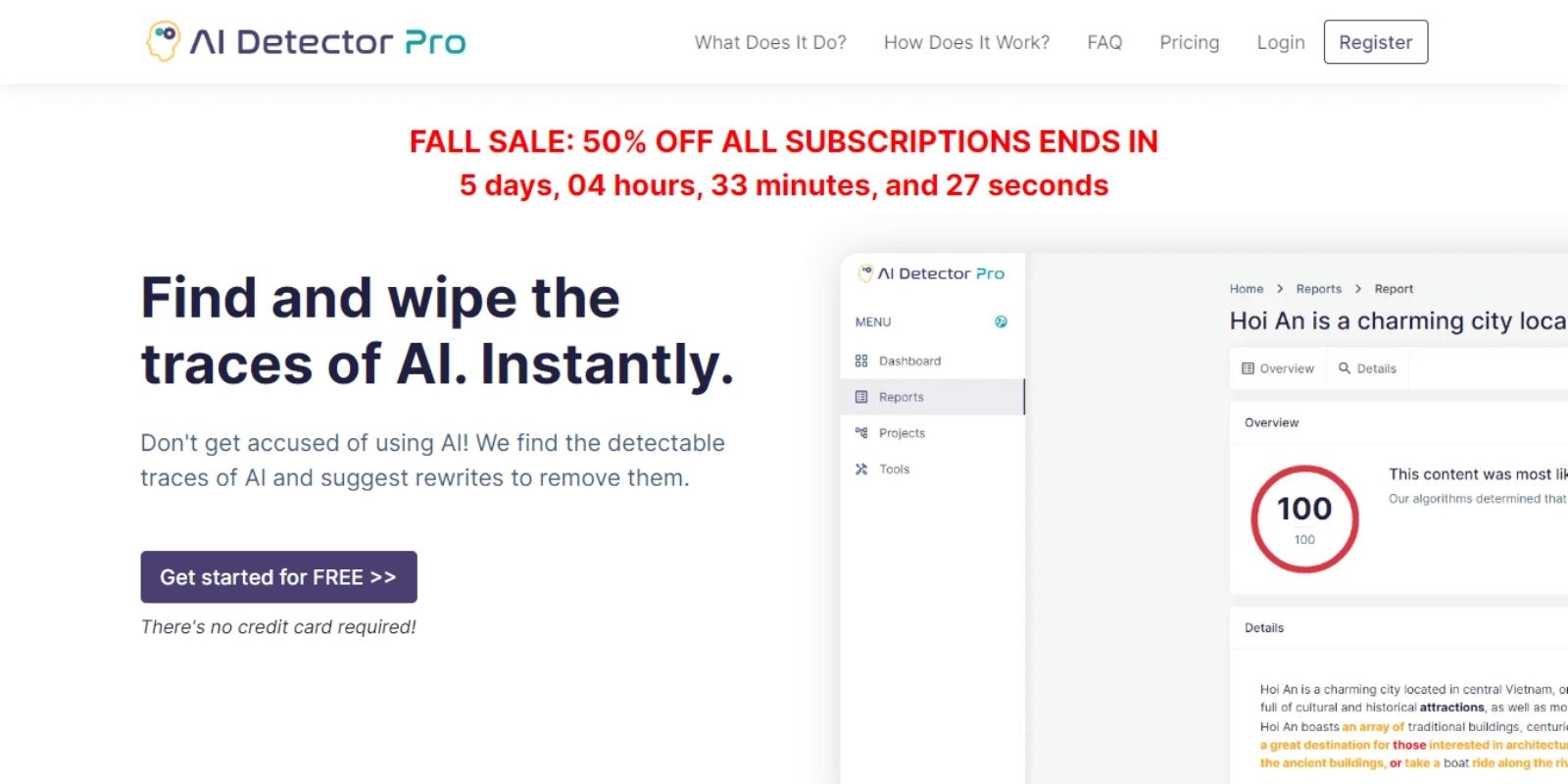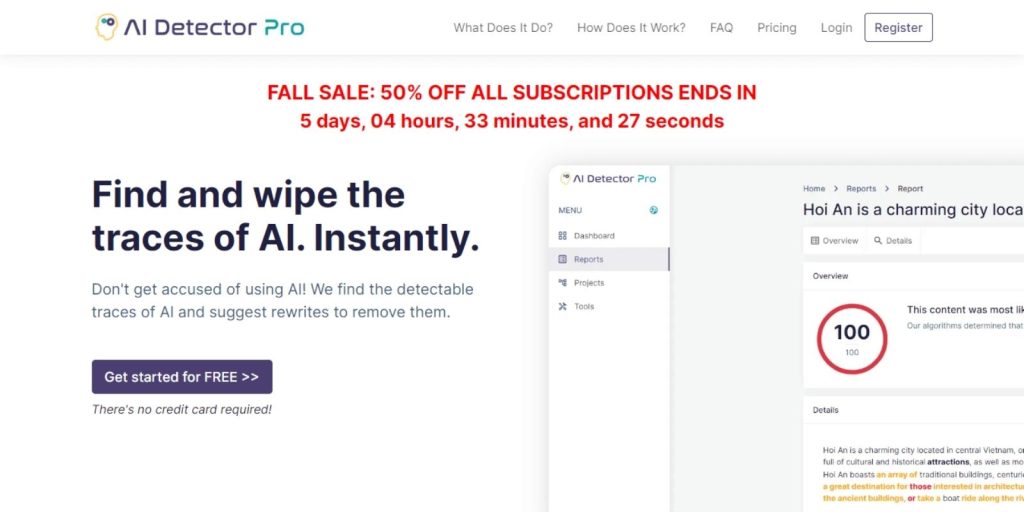 AI Detector PRO is an advanced AI content detection tool that can detect text generated with GPT-3, GPT-4, Bard, Claude, and other popular AI content generation tools with almost 66.6% accuracy. It uses a proprietary mix of three AI engines, NLP, and contextual analysis algorithms to detect AI-generated text with high accuracy.
AI Detector PRO detects AI-generated content in various formats like blog posts, emails, and social media posts even when it is mixed with human-written text. AI Detector PRO provides multiple new features like plugins and add-ons to enhance its capabilities.
Features:
Features a rewriting tool that can be used to paraphrase.
Conduct all of your research, development, and content creation in a single spot.
Figure out exactly which sentence is AI generated even mixed with human text.
Pricing Plans:
The free plan from AI Detector Pro includes 10 free checks each month, and the subscription plan starts at $13.99 per month and includes unlimited checks, is available if you need more checks.
---
6. Sapling AI Detector | Accuracy 66%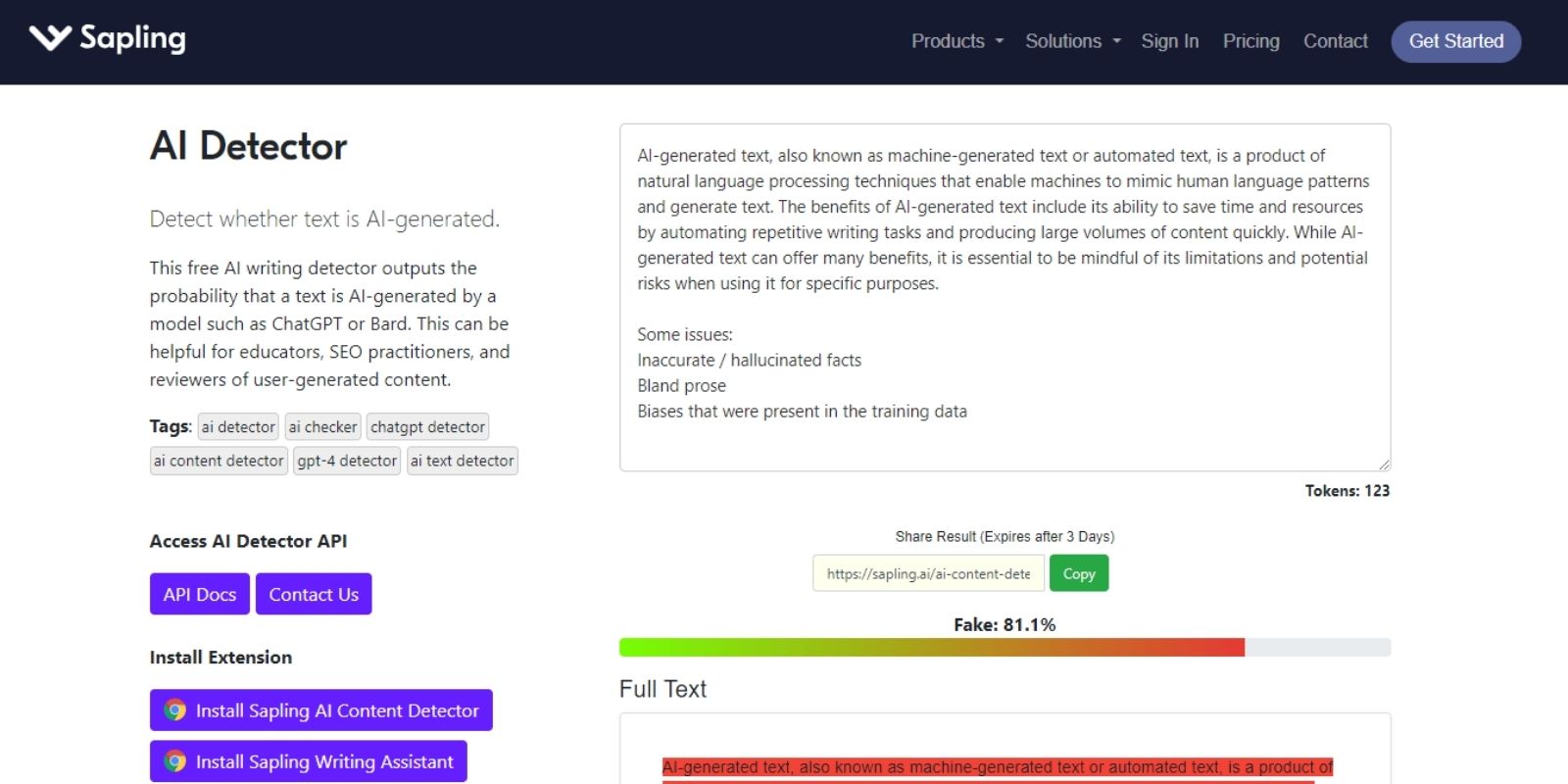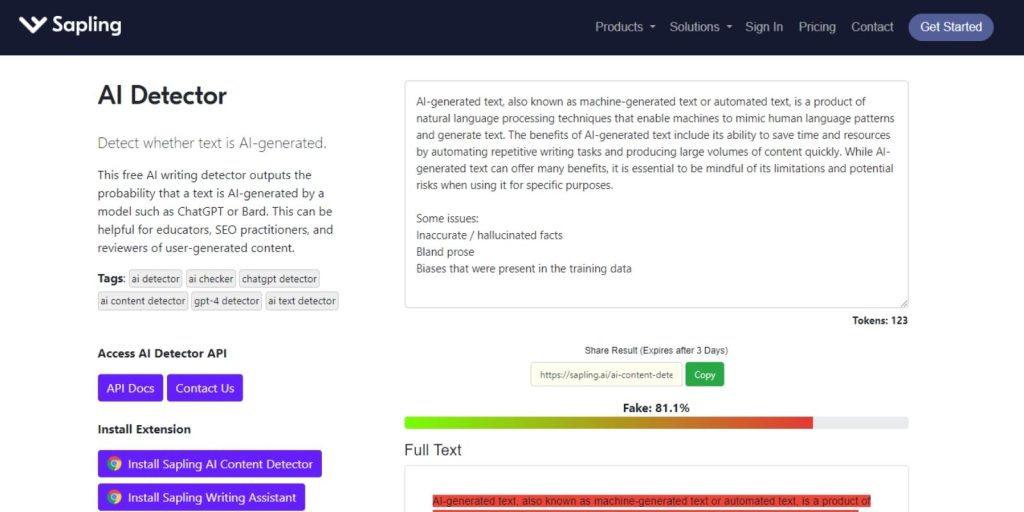 Basically, Sapling is an AI messaging assistant for teams who deal with customers. Even so, the group has created a free AI content detector that is quite good and up-to-date. Sapling also provides its Chrome extension free of cost.
Sapling AI Content Detector is a powerful tool that can help you to identify AI-generated content. It is known as one of the most widely used AI content detectors on the market and is recognized for both its precision and usability.
Features:
With an app for free and not the actual product, more features are on the way.
Accurately detect AI-written content.
Can scan an average-length article entirely.
Pricing Plans: Sapling AI content detector is available for free.
---
7. GPTZero | Accuracy 60%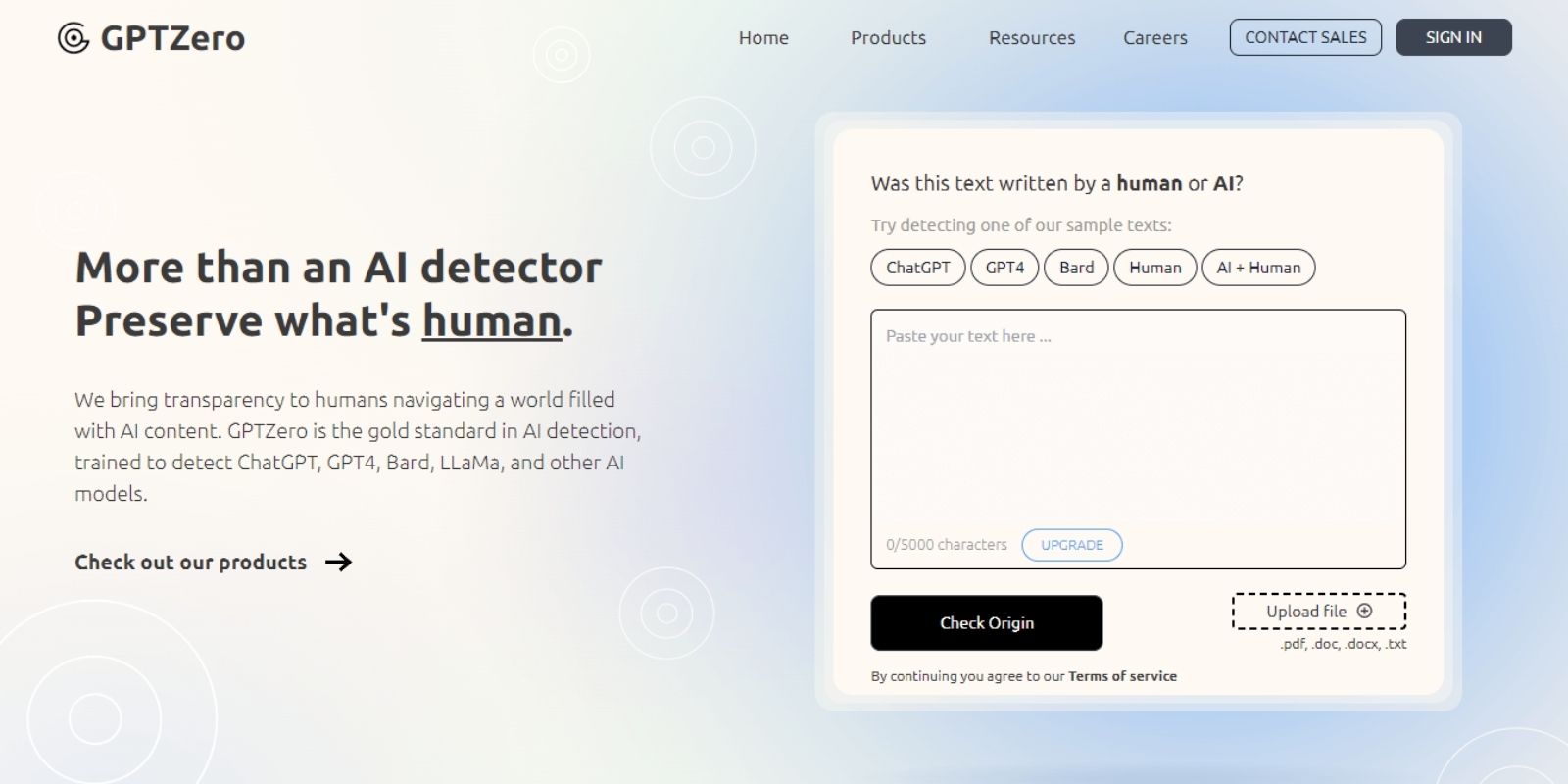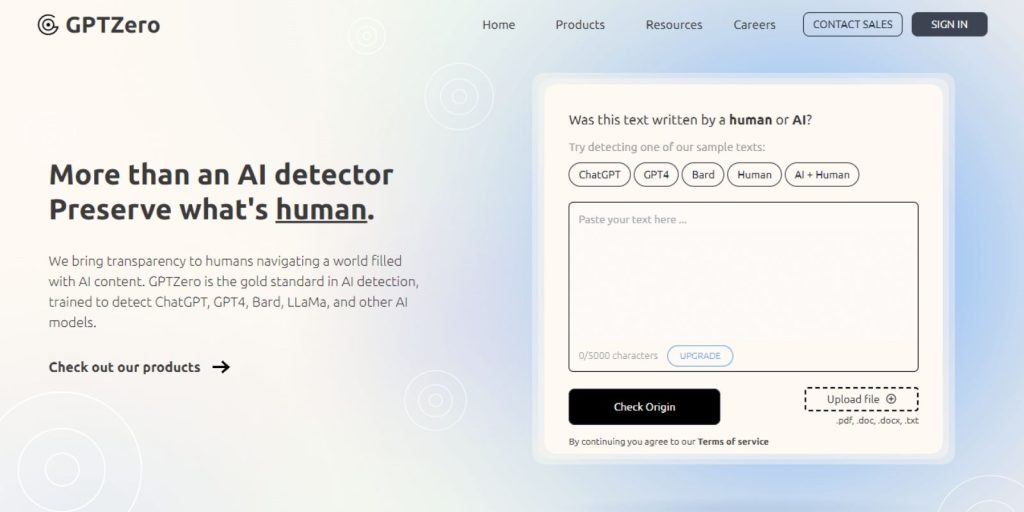 GPTZero is an AI content detector tool developed by Edward Tian student at Princeton University. It is also designed to detect text that has been generated by large language models (LLMs) like ChatGPT, GPT-3, and GPT-4.
GPTZero works by analyzing text for patterns and features that are characteristic of AI-generated text. With the help of GPTZero, you can identify fake information in academic writing and highlight the phrases that probably came from an AI.
Features:
Free to use.
Supports multiple languages.
Can accurately classify 99% of articles with human writing.
Pricing Plan:
GPTZero offers a free plan that includes 10,000 words/month, 7 scans per hour, access to the dashboard, and the Chrome extension.
If you want more advanced features their paid plans start at $10/month for 150,000 words/month with premium AI models.
---
8. Writer.com AI Content Detector | Accuracy 50%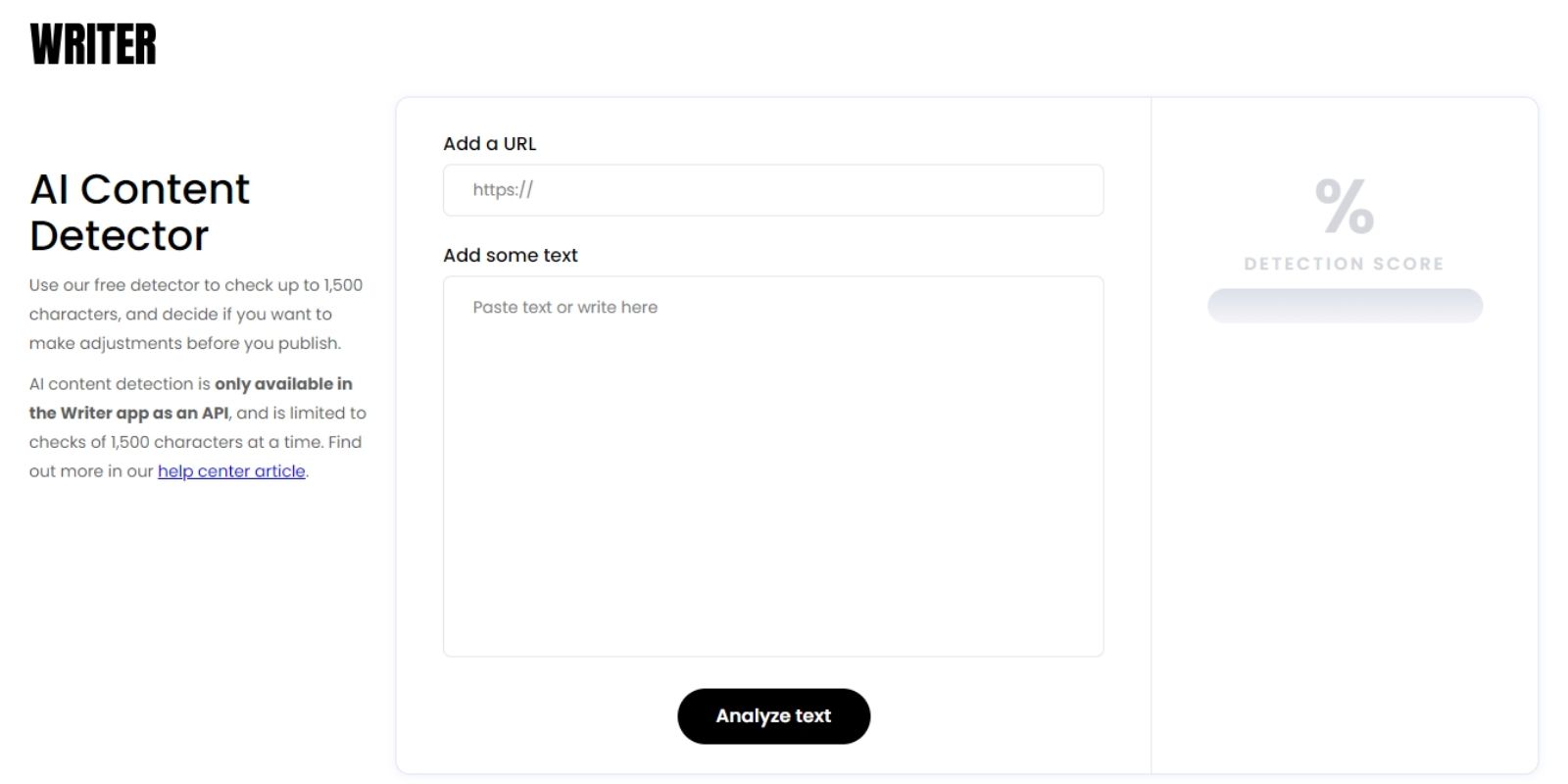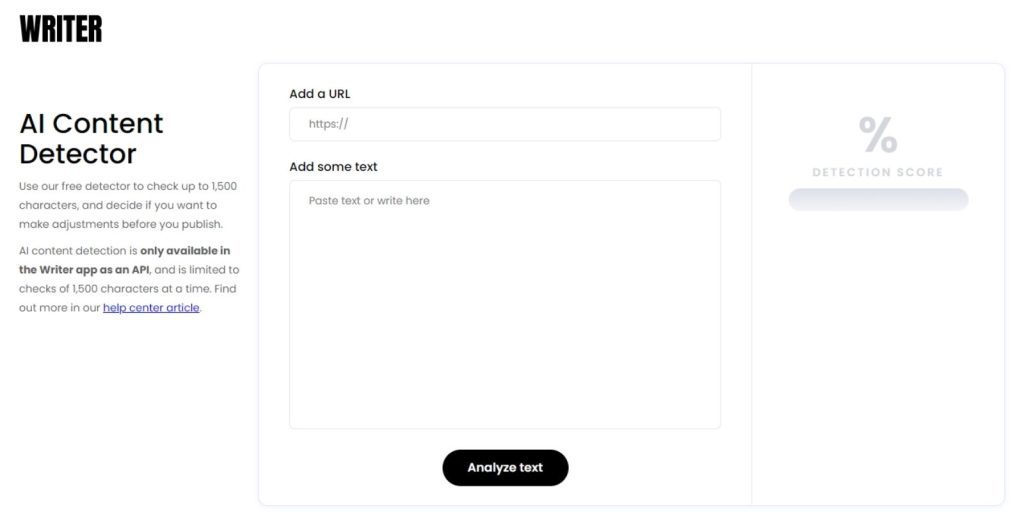 Writer.com AI Content Detector is a valuable tool for researchers who want to verify that the content they are writing is AI-free. It' is detection is almost accurate, and affordable. In addition to its ability to detect AI-generated content, Writer.com AI Content Detector also offers a number of other features, such as plagiarism detection, grammar and spelling checking, and readability analysis.
It is easy to use. You simply need to paste the text that you want to check into the tool and it will generate a report that tells you whether the text is likely to be AI-generated.
Features:
No sign-up is required
Shared by up to five team members.
Easy to use AI scoring
Pricing Plans:
The free version allows you to check up to 1,500 characters of text per day. The paid version allows you to check more text and provides additional features, such as the ability to generate reports and download the results.
---
9. Crossplag | Accuracy 53%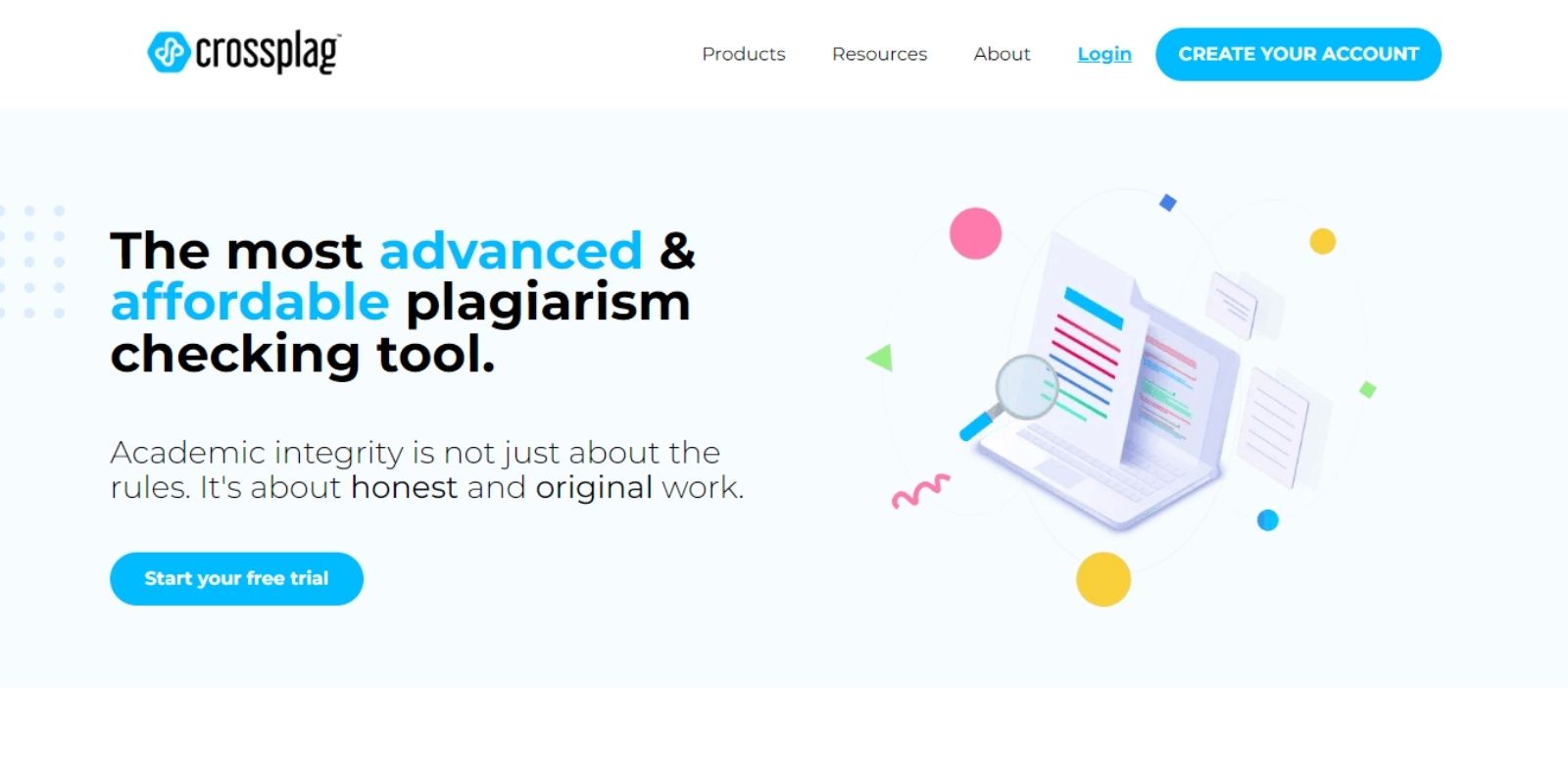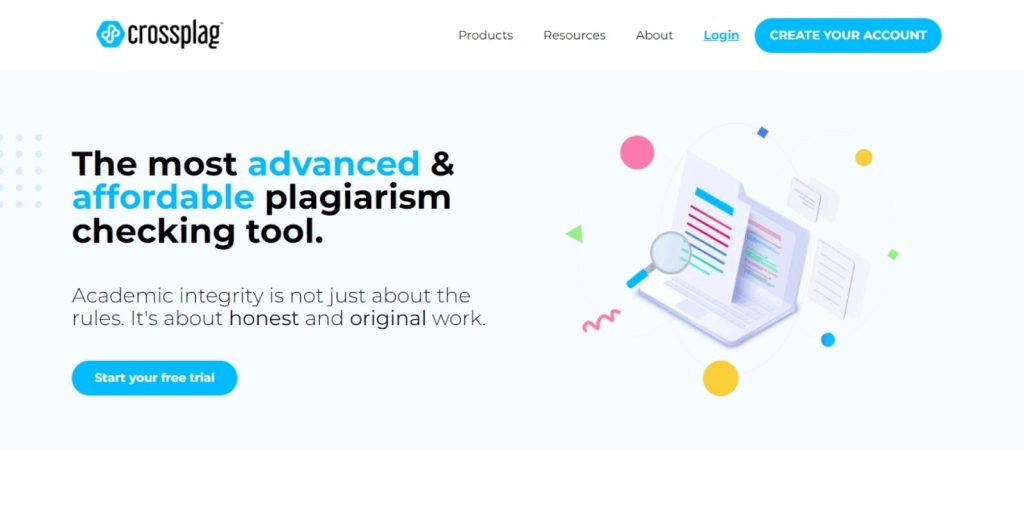 Crossplag AI Content Detector is another free-of-cost AI content detector tool that uses machine learning algorithms and ChatGPT detection technology to identify if the text is AI-generated.
It helps in academic integrity, content quality improvement, and research by assisting educators, students, content creators, and marketers in ensuring the authenticity of submitted work.
Features:
Free AI detection tool.
Potential academic applications.
No sign-up is required.
Pricing Plans:
Crossplag AI detection tool is completely free to use.
---
10. Content At Scale AI Detector | Accuracy 40%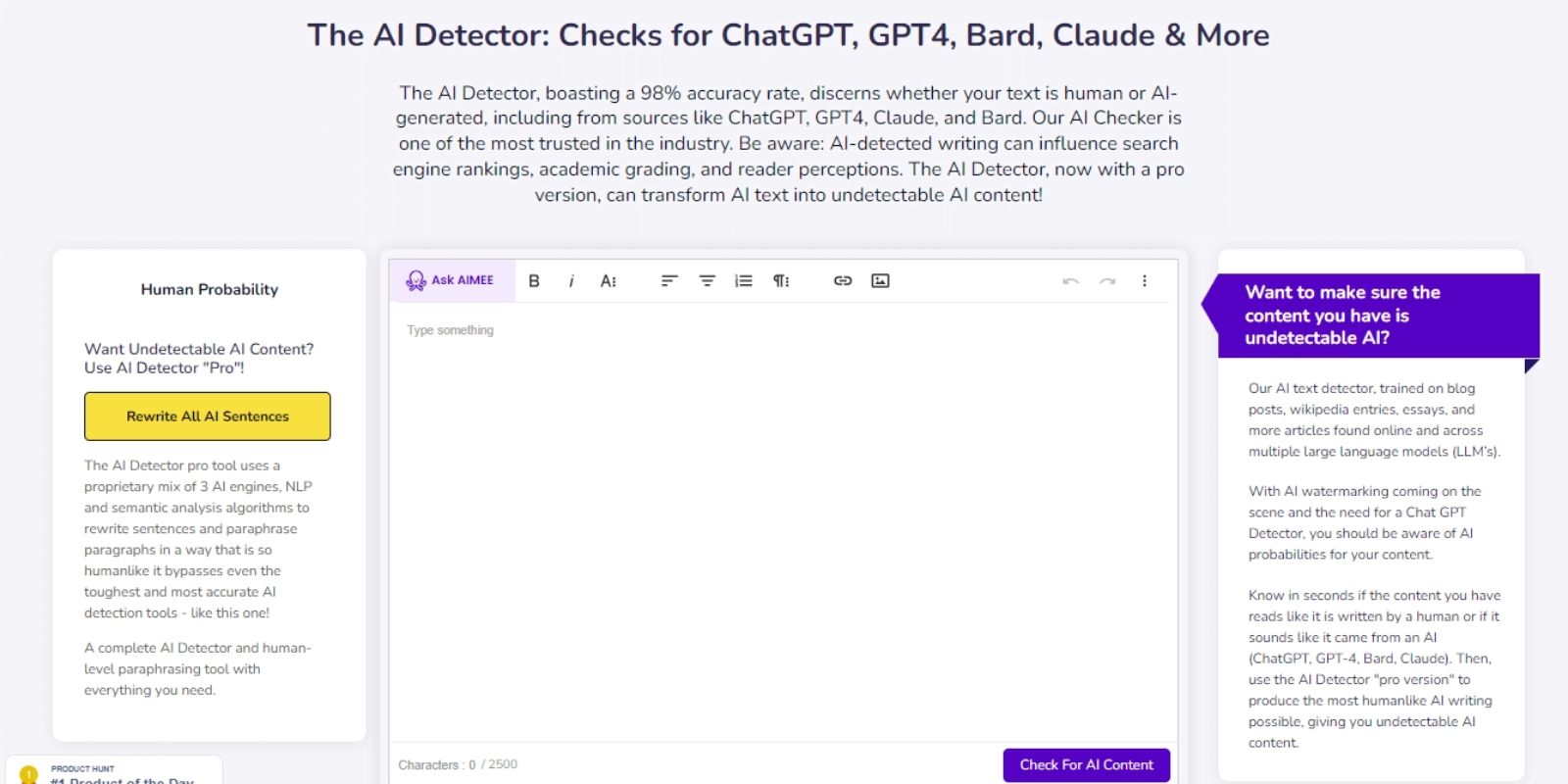 Content at Scale is a 100% free AI detector that can accurately check for AI-generated content using GPT-3 and ChatGPT models. Text highlighting and probability metrics to identify flagged areas are some of its great features.
Content At Scale is the best option if you are looking for a one-click solution to write search-engine-optimized, plagiarism-free, and AI-detected full blog articles.
Features:
Free of cost.
Provides line-by-line analysis.
Supports multiple languages.
You can enter a maximum of 25000 characters.
Pricing Plans:
The Content at Scale AI Detector is completely free to use. There are no premium features or paid plans.
---
11. GLTR | Accuracy 40%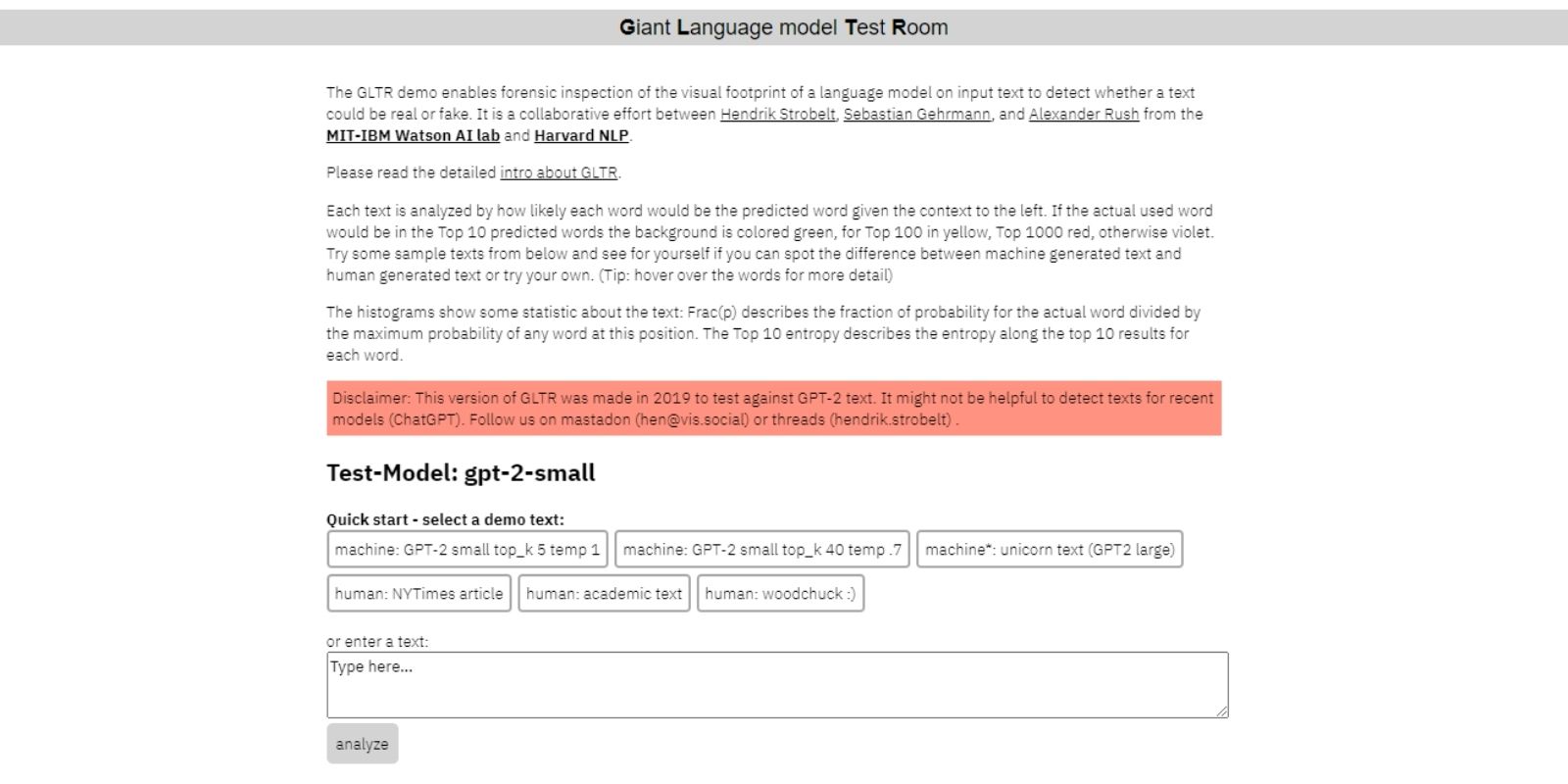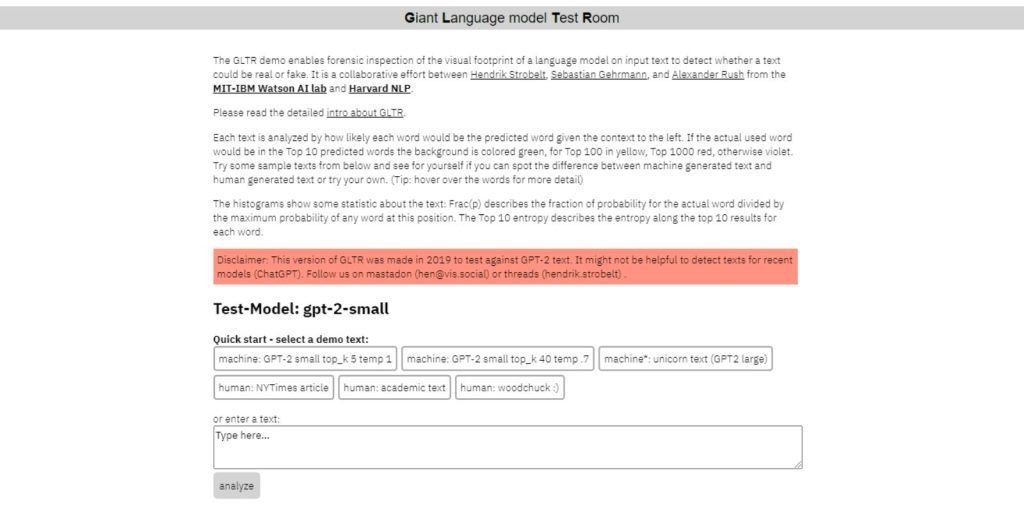 GLTR is an AI content detector tool developed by the MIT-IBM Watson AI Lab that analyzes text to determine if it was generated by AI or written by a human. It uses "perplexity" to compare language structures to LLM-generated material, accurately detecting AI-generated text.
GLTR is designed to be visually oriented with a color-coded overlay showing the possibility of each word being created by any AI writer.
Features:
Free and open-source.
Easy to use and does not require any special expertise.
Can detect AI-generated text with a high degree of certainty.
It is visually oriented and displays text with color-coded overlays indicating the probability of each word being generated by AI.
Pricing Plan:
GLTR is a free and open-source AI content detector tool. It has no pricing plan, and anyone can use it for free.
---
Even if you can't fight the use of AI-generated text, you can finally submit to it while keeping a few things in your mind.
Cite your sources: When you cite your sources, you are giving credit to the people who created the original content. This helps to prevent plagiarism and shows that you have done your research.
Use your own words: When you are writing, try to use your own words as much as possible. Avoid copying and pasting from other sources.
Have someone else proofread your work: Get someone to proofread your content before you publish it. This can help you to identify any instances of forwarding fake news or even information that's not helpful. It may also address plagiarism as a result of AI-generated content.
What are the limitations of AI content detector tools?
Although AI content-detecting techniques are getting advanced, they still have limitations. These AI-generated content detection tools have issues with accuracy, evasion of information, plagiarism, and sometimes bias. They may often mistake human-written information for AI-generated content or vice versa, and may not differentiate between original and duplicated content in general. Likewise, they may be biased against some types of information or writers.
The accuracy of AI content detection techniques is influenced by the amount of data on which they are trained. However, it is important to note that these techniques should not be solely relied upon to determine the validity of information. They should be used alongside other strategies like critical thinking and source checking to ensure the most accurate results.